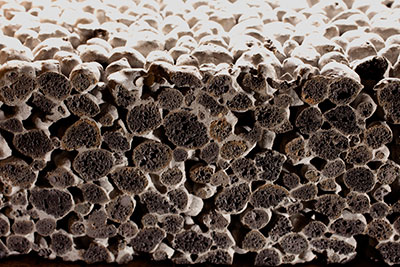 LIGHTNESS
THERMAL INSULATION
SOUND INSULATION
FIRE RESISTANCE
NON-DECOMPOSABILITY
WATER ABSORPTION
LIGHTNESS:
Leca is 4-5 times lighter than loose gravel. Lightening the structure significantly decreases building cost and lowers earth quake threaten.
WATER ABSORPTION :
Average water absorption of 0-25mm Leca aggregate is 18 percent in weight.
SOUND INSULATION :
Leca aggregate and block are among the best insulating materials and according to conducted tests, sound in Leca block with 10cm width and 15cm width respectively fades 45 db. and 46 db.
THERMAL INSULATION :
Concrete made with Leca can be up to 12 times more insulating than normal concrete. Referring to tests conducted by Dubai central laboratory (according to standard No.EN12667) thermal conductivity coefficient for Leca aggregates is 0.09~0.101 w/mc and for Leca concrete is 0.208 w/mc with density of 800 kg/m³.The results have stamped the high quality for insulating feature of Leca products. Applying Leca insulating blocks drop the rate of fuel and electricity consumption and are the best way for optimizing energy consumption.
FIRE RESISTANCE :
Leca is 100% mineral non-combustible material. Since Leca lightweight aggregates is produced at about 1200 c°, walls made of Leca blocks (about 130 kg/m³) can resist 3 hours against fire and fire stretch which should be considered a crucial safety element.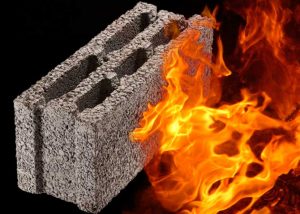 NON-DECOMPOSABILITY :
Leca aggregates strongly resist against alkaline acidic substances and having pH of nearly 7 makes it neutral in chemical post-reaction with concrete.
Durability :
Leca blocks remain stable against climatic changes and environmental factors like freezing and thawing circulations, and limy materials. It should be pointed out that Leca aggregate is chemically neutral and its pH is about 7. Therefore there are no undesirable effects on pipes, wires, and other installation component in building.